Painted Pines Avril, was a very special surprise. She is out of my 22 year old, first alpacas Artica ( who has since passed away of a cancerous tumour) I didnt know she was pregnant till the day Avril was born. A beauty at that too, the first black and white baby from Salvadore Dali ( my first stud male) he is a proud father, she looks just like him. Avril has her mothers lovely laid back temperment, and is turning out to be another top animal for my herd. I was very lucky in getting this baby, Artica lost her last baby, the cria before that was a female that died age 6 weeks old from snake bite, and the 3 before that were all boys. So now I have her line to breed on with. She managed to feed Avril right up till 8 months, when I had to wean her to treat Artica for her tumour. Its a sad loss, as she was one of the 2 first alpacas I owned, and the very reason I have so many. Such a lovely animal. So Avril has big shoes to fill, but is doing very well to keep up so far!
pics before shearing 2009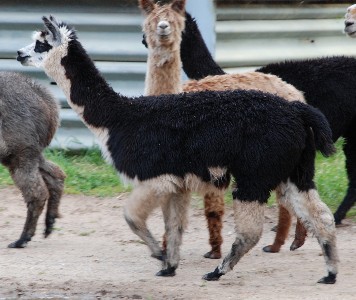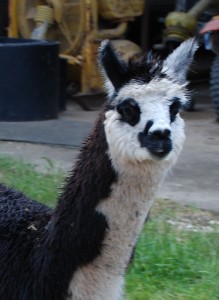 after shearing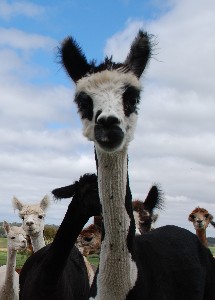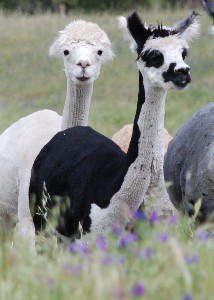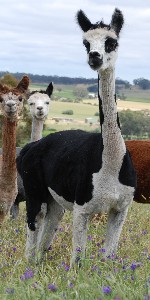 Avril showed alot of signs of pain and I thought she was in labour, with nothing happening, I called the vet, he said she wasnt ready, not even dialated, so i had 3 options, one was leave her be, 2 was give her an injection to induce labour ( which was risky an could cause the cria to die) or 3 a C Section. I opted to wait an see. Just gave her pain relief for the next 2 days till she seemed alot more comfortable. Still went on another 3 weeks to be well over due with her cria, which ment it was abit too big for her, as she was struggling to deliver her she tore right thru. Required surgery and numerous stitches in 3 different layers. Wasn't a pretty sight, but Avril was so brave, the poor girl, she was on pain relief for the next 3 days, which didn't stop her from being a wonderful first time mother to her precious daughter Astekka. She is now having time off to fully heal up before being mated again.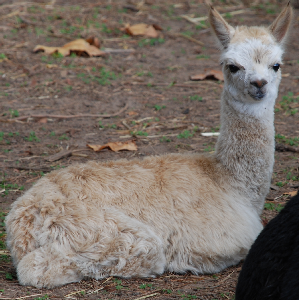 Astekka is now aged 1yr old, and is showing signs of her grandmother Artica also, she is very calm and laid back, is one of the first to greet me and anyone with me, she just loves to give kisses.